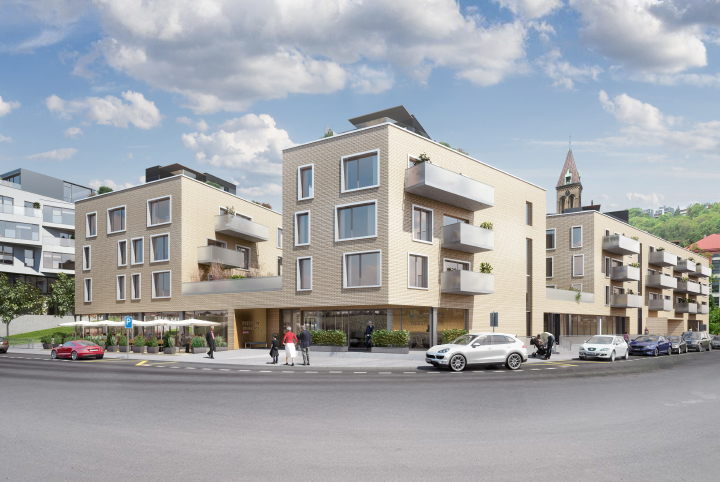 1st floor
public restaurant
reception
club lounge with a library
kitchen and dining area
smokers´ lounge
fitness centre
common hall
play and PC corner
health & consulting office
commercial premises
previous
next
ALL APARTMENTS SOLD OUT! Now we offer attractive retail space and a restaurant for SALE or RENT.
Do you love your privacy and independence? In such a case the Vitality Residence offers you even much more, because you will gain more time for the activities you enjoy. Follow your passions without having to keep and maintain a house, to take care of too large a garden or to spend a lot of time on long journeys in order to go shopping or see a doctor.
Thanks to its situation, exclusive layout and services offered, the Vitality Residence allows you a full and active life regardless of your age and future health status. Under one roof you will find all the benefits arising from home, medical and social community. Stay as independent as you like.
The Vitality Residence is architecturally put between the modern Sacre Coeur2 Residence and the eponymous park on the southern slope in the popular residential neighbourhood Na Hřebenkách. Its elegant architectural design, inspired by the latest trends of residential living and using contemporary technologies, meets the housing requirements of demanding clients. An elaborated interior design combines pleasant and timeless living and offers breathtaking views and maximum privacy and safety in a quiet environment close to the parks of Sacre Coeur and Kinského zahrady (the Kinsky Gardens) in the centre of Prague.
Efficiently in total 50 designed apartments of the layouts of 1 bedroom +kitchenette, 2 bedroom +kitchenette and 3 bedroom +kitchenette with a balcony, terrace or front flowerbed garden are situated so as to be sufficiently sunlit, to provide a beautiful view and at the same time to keep and fully respect the privacy of each resident.
Conveniently designed apartments with the layouts of 1+kitchenette, 2+kitchenette and 3+kitchenette with a balcony, terrace or front flowerbed garden are placed so that they can be sufficiently lit, provide a beautiful view and at the same time maintain and fully respect the privacy of each resident. Rich furnishings and social facilities, intended solely for the residents, will house your unique lifestyle. Besides the below-mentioned facilities, the Residence also features a restaurant open to the public and commercial premises for health care and beauty treatment.
reception

public restaurant

club lounge with fireplace

common party zone with kitchen

game corner

smoking lounge

ballroom

fitness centre

doctor´s office and consulting room

commercial premises

outdoor relaxation zone

outdoor pétanque
When designing this residential project, great emphasis was put on using energy-saving solutions in all aspects. Sufficient attention was also paid to monthly facility management and maintenance costs.
Passion for gardening or sharing quiet moments with friends on the terrace, as well as for living together with a dog or cat – this all is welcome at the Vitality Residence.
even the most demanding will be delighted
At the Residence the inhabitants can enjoy a number of leisure and social activities, including exercising and fitness programmes. They are conceived so as to enrich and maintain a healthy lifestyle.
Besides a number of premium facilities, such as a public restaurant, club lounge with a fireplace, common kitchen with a dining hall, game corner, smokers´ lounge, fitness centre or reception, the Residence also represents a true continuity of nursing, home care and supportive services, including a possibility of catering for the residents for years to come. Superior services are an everyday standard, therefore you can forever enjoy a unique and independent life in a selected community of active people. The choice is yours – live at a full speed or in peace
The safety and comfort of the residents is provided throughout the building by physical security, CCTV system, security sensors and alarms, thus an unauthorized access into the areas is prevented. The barrier-free environment, SOS systems in case of emergency, quality interior solution and disposition of common areas respect the luxury and meet the expectations of any individual.
In short, the benefits of residential living with all the details of "home sweet home", guaranteed by furnishings and quality, can form a long list that is worth reading – because only in this way it is possible to find out how much the investment in quality housing regardless of your age and future health status exceeds the present moment.